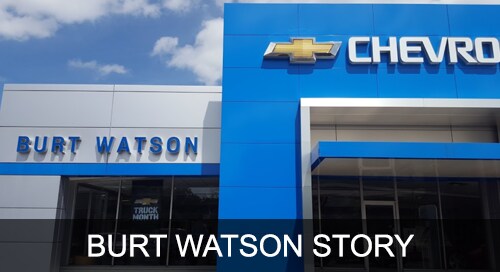 The Watson family has business roots in Saginaw dating back to the 1920s. Richard T. Watson and his young family, including Burton T. Watson, began distributing milk in the Saginaw area during the Great Depression. The business evolved into producing ice cream, and the Watson family operated a popular soda fountain in the City of Saginaw, a common place for friends and family to gather. Eventually, they became one of the largest producers of ice cream in the state of Michigan. After World War II, they added the popsicle franchise to their business. They produced and delivered all of the frozen novelties consumed in northern Michigan.
Burt sold Watson Dairy and purchased Timmons Motor Sales on December 31, 1955. The dealership in those days was located further down on Midland Road. At that time, the dealership was also a standard gasoline station (having just a few employees). Upon purchasing the business, the pumps were quickly removed to focus efforts on the selling and servicing of new and used vehicles.
Burt built the present dealership in 1969. It is 35,000 square feet (sq. ft.) with roughly seven acres of blacktop and an additional 1,500 sq. ft. in the used vehicle building. Burt's son Richard joined the business in 1976 after attending the University of Michigan. Upon his father's passing in 1979, Richard became the dealer and continues on in that capacity today.
During Richard Watson III's tenure, the dealership grew to be a leader in Chevrolet and Pontiac sales. In addition, Richard provided community leadership in many areas. He served on the board of directors for both Saginaw General Hospital and Saginaw Community Hospital. In addition, Richard Watson III was a founding member of both the 1st State Bank of Saginaw and Bay City and the One Hundred Club of Saginaw County. Mr. Watson and his longtime friend Mr. Gary Bivins also developed Thomas Farms Estate, as well as other smaller subdivisions. Mr. Watson and his friends always had a vision of improving our community.
In 2018, Richard Watson the IV (pictured with Mr. John W. Spreeman, General Manager) began his dream of becoming the third Watson to lead Burt Watson Chevrolet, Inc. Currently, Burt Watson Chevrolet has 77 employees from the Great Lakes Bay Region's local communities. We have 16 retirees and 17 employees with greater than 20 years with the company. Mick McMillian has 43 years and Dan Davis has 31 years, respectively.
Over the last 10 years, Burt Watson has expanded and upgraded its campus by investing five million dollars in the infrastructure. Our latest investment happened in December 2014. The dealership purchased an additional 2.5 acres and built the 11,000 sq.-ft. Service Facility II. The purchase of this expansion allowed us the space to improve our ability to provide for our growing customer base.
You know us for our great sales efforts as reflected in our five straight Chevrolet Mark of Excellence achievements. Now you know us for our longstanding traditions and desire to improve all aspects of the communities we live in by being a leader in customer service and employee development. Now that is It's a Burt Thing!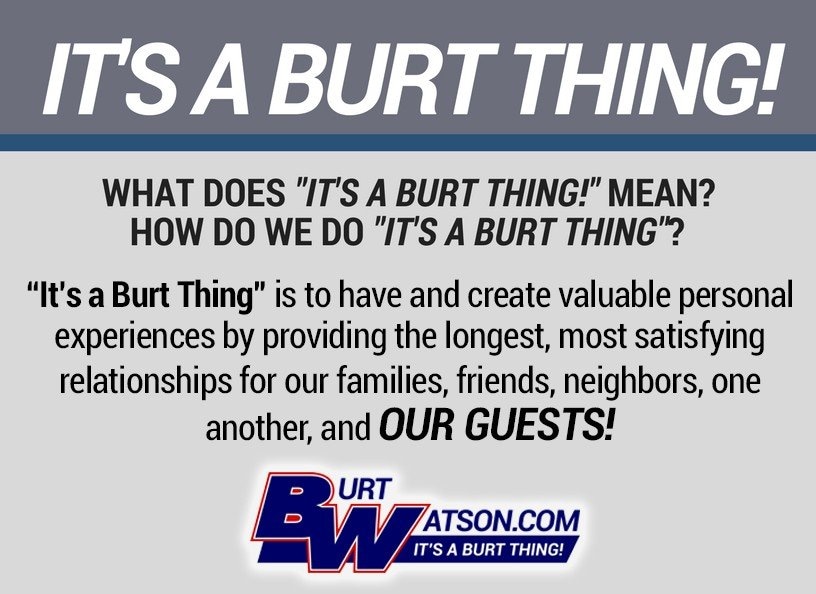 A Wide Selection of Affordable New and Used Cars Available at Burt Watson Auto Group
Regardless of which type of vehicle you're interested in buying, you need a car dealership that offers a wide selection to give you the best options to select the one that's right for you. And that means choosing Burt Watson Auto Group. Our inventory of new Chevrolets is one of the most diverse in the Freeland area. Because we carefully add each vehicle to ensure car buyers have a variety of body styles, colors and models, we're more than sure that you will find them all accommodating for making your best decision. Are you more interested in a late-model used car? No worries. We've got you covered with plenty of affordable low-mileage options!
Financing
Financing a new or used car is much more simplified at our dealership than you might find elsewhere. That's because of our streamlined approach to financing and top-notch finance managers. We have a wide range of lenders, and we have direct access to everything needed to make your new or used car financing go quicker and thorough. From flexible finance terms to competitive rates, our lenders are transparent for you to make the most informed decision. Whether it's GM Financial or a Saginaw lender who specializes in second-chance or bad-credit auto loans, we're prepared to serve you.
Parts and Service
When you need parts or maintenance for your new Chevrolet, don't just choose a local parts store or repair shop in Freeland. Instead, choose our parts and service center for the most up-to-date information about your vehicle and the most qualified professionals. Our service team at Burt Watson Auto Group receives regular updates from the factory. And all our technicians are factory-trained and certified to work on your vehicle. We have an in-house inventory of parts with a large selection of genuine GM parts and accessories. Plus, our parts advisors are experienced when it comes to making sure the part you choose is the right choice for your specific Bay City vehicle.
Burt Watson Auto Group is Here to Meet All of Your Automotive Needs
When car shoppers need a new or used vehicle from Ford or Chevrolet, they can depend on Burt Watson Auto Group having a large inventory to make an informed decision. And because our inventory is always well-stocked with a variety of great selections, including all models in the new car lineup, you can rely on our dealership to choose the perfect vehicle for your driving enjoyment. Whether you're interested in a new or used sedan, truck, compact, or SUV, your choices are wide-ranging at our dealerships near Freeland. And our impeccable sales team ensures the selection process goes smoothly to make your best deal.
Our Customer Service Commitment
How do you measure getting good customer service when buying a new or used car? Does it mean courtesy, feeling comfortable with your sales professional, and receiving the assistance needed to have a successful outcome? Well, that is the type of quality customer service we provide at Burt Watson Auto Group. It's not just about meeting your expectations for satisfaction. Our goal is to provide an environment that gives you the empowerment and ease needed to ensure you're in complete control to buy the car of your choice. From the test drive to financing, once you drive away from our dealerships around Saginaw in your new ride, you know you've made the right decision.
Visit Our Dealerships to Learn More
To find your next new or used Ford or Chevrolet, be sure to visit our dealerships around Bay City. We promise to make your visit as pleasant as possible while browsing our inventory and selecting your next vehicle to buy or lease. And don't forget that your trade is welcomed and may extend your buying power. You can also return to our dealerships in the years to come for all of your service and parts needs. We look forward to working with you soon!